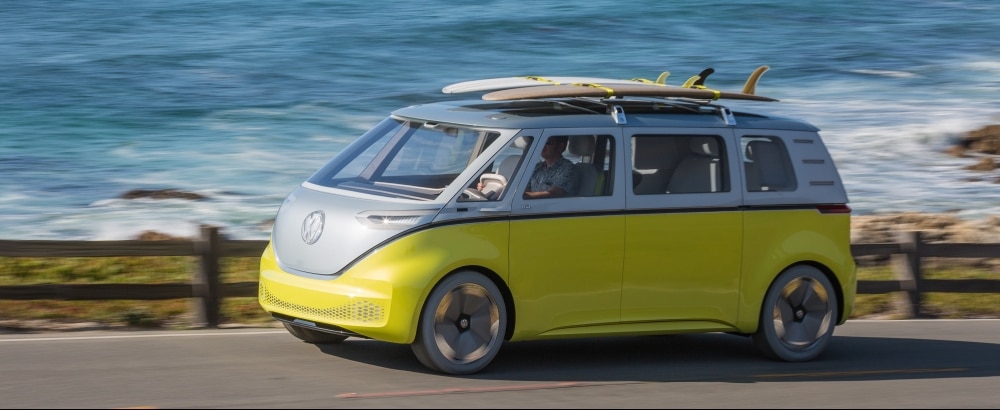 Many drivers are anxiously awaiting more information about the spiritual successor of the Volkswagen Van: the VW ID.Buzz. With all-electric power and an innovative assortment of features, we are happy to announce that a first look will come in March. The first-ever public appearance will happen at South by Southwest® from March 11-20, but we want to give you a quick idea of what the vehicle has in store for you.
A New Look for a Revolutionary Vehicle
The VW van has been out of production for a long time, but it still has a strong following. The ID.Buzz fills that gap in the lineup with an electric powertrain to bring the beloved model into the modern era. Electric power gives the ID.Buzz an exciting driving performance, while the VW Modular Electric Drive Matrix (MEB) platform maximizes cargo and interior space.
Drive Your Way for Every Adventure
The cabin of the ID.Buzz is almost entirely reconfigurable, allowing you to fold seats completely flat, add a table, swivel seats, and more. No matter how long you want your road trip to be, you can find a way to make the ID.Buzz perfect for it. Not only does the ID.Buzz allow you to make room for your gear and passengers, but it also has an estimated range of 300 miles to ensure you don't need to stop as often during your road trip.
Interested in the ID.Buzz? Reach Out to Volkswagen of Murrieta to Learn More!
Our dealership is staffed by enthusiasts like yourself, which is why we're always excited to help you see what the upcoming and newest Volkswagen models will offer. We urge many of you to see what the world reveal of the Volkswagen ID.Buzz will show, but we are also happy to answer any questions you are left with. Feel free to call, email, or visit our dealership to learn more!