| | |
| --- | --- |
| | |
| VW Jetta | Honda Civic |
Comparing Popular Cars: The 2022 Volkswagen Jetta Vs 2022 Honda Civic
Shopping for a new car might seem difficult, but the newest iterations of popular models will make it easier to see which is right for you. Our team compares top models to give you the clearest view of each car. We'll work with you to see if you should be getting into the 2022 Volkswagen Jetta or the 2022 Honda Civic. Each provides a selection of impressive features and can keep you entertained during your driving experience.
The 2022 Volkswagen Jetta has been a top choice for drivers looking for a sedan they can trust during every drive. The dependable performance is underscored by its athleticism, creating the perfect blend for any errand or commute. The sleek design is new for the model year, having slight tweaks and updated features that keep it ahead of many competitors. The surprisingly spacious interior makes it a welcoming sedan for anyone who gets inside.
As a top choice for many years, you might also be considering the 2022 Honda Civic. The versatility and options of a 2022 Civic could push it to the top of your list, but we don't want you to be too hasty in your decision-making. Our comparison puts the 2022 VW Jetta and 2022 Civic in a head-to-head comparison to ensure you will feel confident with the one you add to your driveway.
The stress of research and hoping you make the right decision could have you hesitating with your new vehicle search, but we're here to help. Our research looks at some of the most popular traits, specs, and features of each model to simplify your search. You won't need to spend hours researching these models when you shop with Volkswagen of Murrieta. We look forward to answering any questions and guiding you towards the new Jetta or Civic that suits your needs.
Our comparison tries to cover any information you could need, but you can also reach out to our experts if you are looking for more. We're always happy to answer your questions and show you what makes the 2022 VW Jetta and 2022 Honda Civic top choices in their class. We can help you make the best decision about which vehicle will meet the needs of your next vehicle.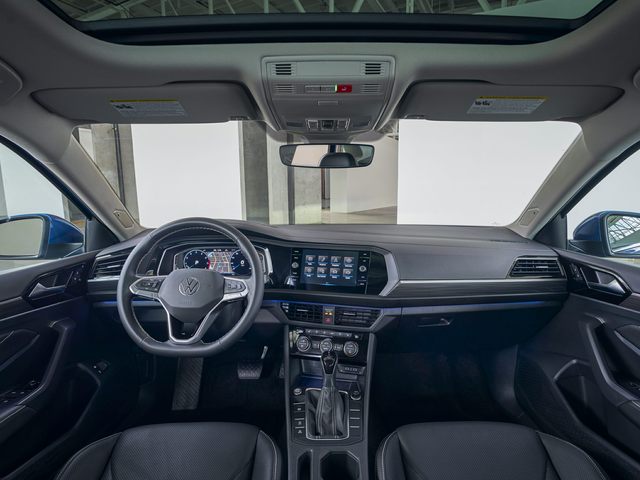 2022 Volkswagen Jetta vs 2022 Honda Civic
Both models offer 158 horsepower, but the 2022 Volkswagen Jetta has 184 pound-feet of torque, and the 2022 Civic only has 138.
Android Auto™ and Apple CarPlay® are standard features for both models, ensuring you can stay connected to your favorite songs and apps.
You can't add a manual transmission to the 2022 Honda Civic, but the 2022 Jetta has an available six-speed manual.
The 2022 Jetta can have a more sophisticated cabin with ventilated seats available, something the 2022 Civic doesn't offer.
The 2022 Civic cannot have ten-color interior ambient lighting like the 2022 Jetta.
The 2022 Jetta has 16- and 17-inch wheels available, and the Honda Civic has 16-, 17-, and 18-inch wheels available.
The 2022 Jetta gets better fuel efficiency than the 2022 Honda Civic.
There's a standard blind-spot monitor in the 2022 Jetta, a feature that's not standard for the 2022 Honda Civic.
Leatherette seating is available for the 2022 VW Jetta, and the 2022 Honda Civic can have leather-trimmed seats.
The 2022 VW Jetta comes with a larger Digital Information Interface than the 2022 Honda Civic.